Ever dream of the perfect second family? Stampin' Up! is that for me. Most of my closest friends were made from workshops I have held,or SU! events I have attended. These have been long, lasting and absolutely FUN relationships! (I've been a demo for over 11 years now.)
Whether you would like to make some extra money, make new friends, or just get away from the spouse and kids, now is the time to become part of our Stampin' Up! family. Join SU! between Oct 1-31 and you will receive a FREE BIG SHOT with your kit. And, as an added incentive, if you join with me during the promotion and help me reach a new level with Stampin' Up!, I will send you a Set Sampler to get you started on building a successful business! Contact me for more information or click on the "Join My Team" button on the sidebar.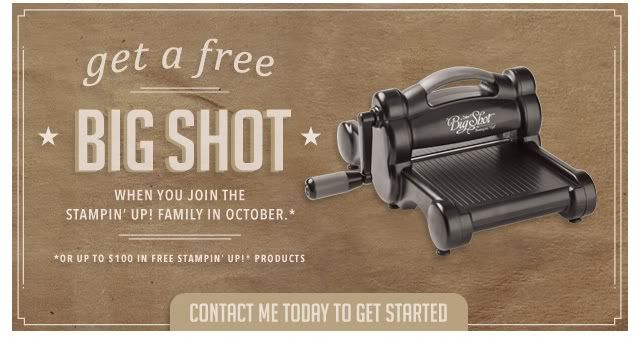 And, as if an awesome Joining Special isn't enough, check out these great deals!
I hope you are having a wonderful day!
Stamping Hugs,
Randee